Mardi Gras Cleanup Krewe
MARDI GRAS 2020 the CLEANUP KREWE went LIVE!
The Mississippi Coastal Cleanup & Plastic Free Gulf Coast partnered up to hit the streets for the Gulf Coast Carnival Mardi Gras Parade in Biloxi to help with post-festival cleanup. Every year, a huge amount of trash is generated by the annual carnival celebration that takes days to pick up. Volunteers constructed and designed the float to be a trash collection container. As our float followed the parade, the pickup of trash began immediately, decreasing the chance of trash items spreading into the nearby neighborhood communities and natural environment! Volunteers walked alongside and behind the float for almost 3 hours picking up over 3 tons of trash. The goal of the Cleanup Krewe float is to promote the incorporation of mindful, waste-free partying into one of our most anticipated traditions!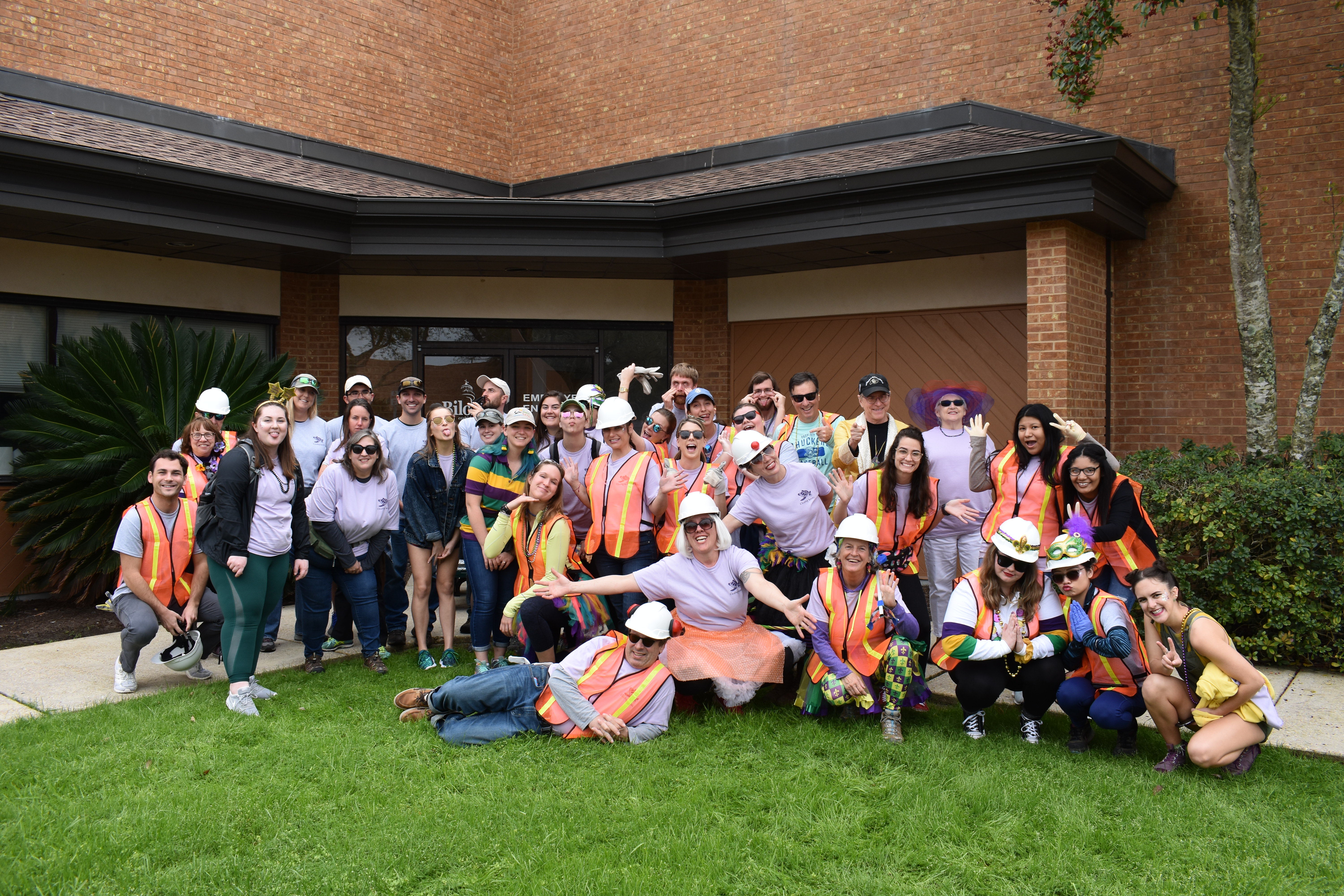 ---
Mardi Gras is one of the south's most anticipated traditions, with costumes, beads, parades, and balls, the Mississippi Gulf Coast is alive with festivities. Unfortunately, these beloved celebrations leave behind large amounts of trash that takes days to pick up. Debris that is left in streets and on sidewalks can be blown or washed into storm drains, causing blockage that increases flooding, or into the local environment creating a hazard to wildlife. City and cleanup crews take to the streets in efforts to pick up what is left of the festivities, but the amount of single-use plastics and debris left by the parade can be daunting.
In efforts to spread awareness and promote a low-waste celebration, the Mississippi Coastal Cleanup Program and Plastic Free Gulf Coast partnered up to have the first ever "Cleanup Krewe" float in the Gulf Coast Carnival Coast Association Mardi Gras Parade in Biloxi, MS on February 25th, 2020 (i.e., Fat Tuesday).
The goal of the Cleanup Krewe float is to promote the incorporation of mindful, low-waste partying into one of our most anticipated traditions, and start a conversation about how our actions have an effect on the environment around us.
This unique float acted as a debris collection vessel, decorated completely out of trash items, and was the last float in the parade. The construction, design and execution was completely carried out through the efforts of volunteers! As the parade commenced, volunteers walked with the float and picked up trash as they went. Volunteers used a wide array of tools to aid in trash collection such as rakes, grabbers, buckets and carts. In addition to picking up within the parade route barriers, the Cleanup Krewe interacted with parade attendees requesting that the trash at their feet be put into buckets carried by the Cleanup Krewe.
All the collected trash was tossed onto the float, bagged, and later separated and counted resulting in a total of 5,406 pounds of beads collected – that's nearing 3 tons of trash picked up overall!
The data collected on the amount of beads and plastic debris has been logged and will be used to educate the community on single-use plastics, and to start a conversation focused on prevention and sustainable alternatives. All beads collected were donated and recycled for future Mardi Gras events.
The 40 Cleanup Krewe volunteers consisted of caring community members and various organizations such as the Audubon Mississippi Coastal Bird Stewardship Program, Mississippi Aquarium, MGCCC JD Science Club, the Mississippi Institute of Dolphin Science, Mississippi Master Naturalists, Mississippin' Challenge, Coastal Conservation and Restoration Program, City of Biloxi, Biloxi Library and Coastal Mississippi. The Cleanup Krewe's goal to promote a fun Mardi Gras with a low waste twist was a complete success.
To minimize the amount of waste produced, new sustainable practices are something we are starting to see at Mardi Gras events, and should increase for future events. Some parade floats have traded in their plastic beads and throws for more viable options such as rice, beans, coffee and even bead necklaces made of seeds.
We hope to keep spreading awareness that Mardi Gras can be crazy FUN & crazy CLEAN. 
---
The Cleanup Krewe will not be participating in any parades this year. Instead, we will be focusing on spreading education and awareness on enjoying a plastic-free, sustainable Mardi Gras celebration through outreach and social media. 
How do you celebrate with the earth in mind? Share with us!
---
Come have fun with us in efforts to keep the 
Mississippi Gulf Coast Mardi Gras 
crazy fun & crazy clean!