Annual Mississippi Coastal Cleanup

Every October, thousands of volunteers gather across the coast in efforts to rid our waterways, beaches and bayous of marine debris. The Annual Mississippi Coastal Cleanup takes place in Jackson, Harrison and Hancock Counties. Throughout each county are multiple cleanup sites available for the volunteers' choosing of where to clean at. The sites range from beaches to parks, bayous to harbors. This cleanup marks the end of our cleanup season!
The 2023 Annual Mississippi Coastal Cleanup Event will take place 
Saturday, October 21st 2023 from 8 a.m. to 11 a.m.
REGISTRATION WILL CLOSE OCTOBER 17th!
---
CLEANUP SITE LOCATIONS:
1. Waveland Beach: Garfield Ladner Pier
2. Bay St. Louis: Washington Street Pier & Boat Launch + RESEARCH OPPORTUNITY OPTION! 

** Click the site link below for more information!
3. Pass Christian Harbor 
4. Long Beach Harbor 
5. Gulfport: Jones Park
6. Gulfport: Ken Combs Pier & Boat Launch
7. Biloxi West Beach Boardwalk 
8. Biloxi Lighthouse
9. Ocean Springs: Front Beach @ the harbor end 
10. Ocean Springs: East Beach
11. Pascagoula Beach Park & Front
**Use the points on the map above or scroll to the bottom of this page to click cleanup locations for site specific details. 
---
THANK YOU SPONSORS!!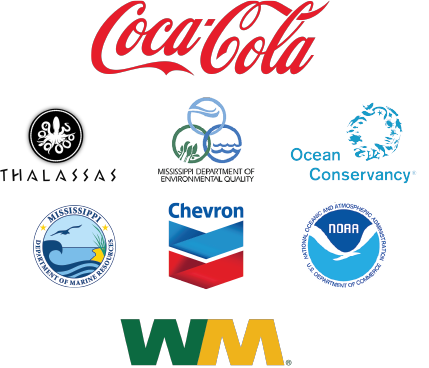 Cleanup Sites
| Cleanup Site | Coordinates | County |
| --- | --- | --- |
| Bay St. Louis: Washington Street Pier & Boat Launch | 30° 18' 10.872" N, 89° 19' 48.2088" W | Hancock County |
| Biloxi: Biloxi Beach Boardwalk | 30° 23' 35.1996" N, 88° 56' 13.6536" W | Harrison County |
| Biloxi: Lighthouse | 30° 23' 38.274" N, 88° 54' 4.68" W | Harrison County |
| Gulfport: Jones Park | 30° 22' 2.4528" N, 89° 5' 6.7884" W | Harrison County |
| Gulfport: Ken Combs Pier | 30° 22' 41.0232" N, 89° 2' 37.5" W | Harrison County |
| Long Beach: Long Beach Harbor | 30° 20' 45.942" N, 89° 8' 32.604" W | Harrison County |
| Ocean Springs: East Beach | 30° 23' 32.5644" N, 88° 48' 0.684" W | Jackson County |
| Ocean Springs: Front Beach (Harbor End) | 30° 24' 10.5264" N, 88° 49' 28.236" W | Jackson County |
| Pascagoula: Beach Front | 30° 20' 35.5884" N, 88° 32' 1.644" W | Jackson County |
| Pass Christian: Pass Christian Harbor | 30° 18' 56.88" N, 89° 14' 28.608" W | Harrison County |
| Waveland Beach | 30° 16' 57.6768" N, 89° 22' 4.7064" W | Hancock County |