Star-Spangled Cleanup
Our Star-Spangled Cleanup is an annual event that takes place the day after Independence Day on the beaches of the Mississippi Gulf Coast! This event started in 2017 on the beaches of Harrison, Jackson, and Hancock County. With growing interest and donations from our wonderful sponsors, we hope to keep our wonderful beaches clean!
Every year, July 4th is the day we celebrate the birth of our nation with a day full of festivities and food. Friends, family, and neighbors gather the evening of to watch the biggest and most beautiful firework displays in Southern Mississippi along HWY 90. Unfortunately, this firework celebration often results in tons of debris littering our beautiful beaches.
The Star-Spangled Cleanup will take place across the MS Coast the weekend following July 4th in efforts to remove this debris as quickly as possible before it is buried in the sand, blown or washed away by wind or rain, or forgotten. After volunteers perform their cleanup, volunteers will be entered into a raffle for prizes in appreciation to their hard work.
The next Star-Spangled Cleanup is scheduled for July 9th, 2022.
Our team is currently working on event details and logistics.
---
For questions and information about this event, please reach out to the Program Coordinator at mandy.sartain@msstate.edu
---
HUGE thank you to our sponsors for making this event possible!!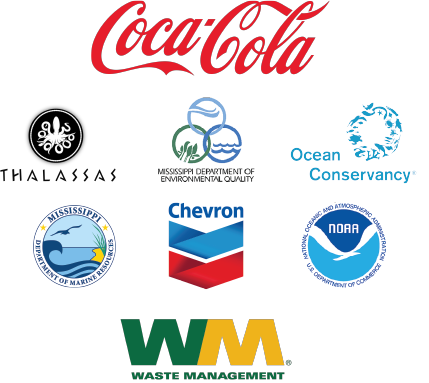 Star-Spangled Beach Cleanup Sites